Feet in the void, head in the stars
The Aerobar is the first flying bar in the world. 
It takes just two minutes to lift her passengers to the summit and offer them an extraordinary experience, with their feet in the air. An original bar that turns on itself and allows to contemplate a 360° panorama around a refreshment, accompanied by an operator, the Aerobarman!
A breathtaking experience
The Aerobar's sixteen passengers live a unique experience, 35 meters high, with an extraordinary panorama and a friendly altitude bar. Drink, eat, interact with neighbors, admire the landscape, have sensations, you never forget a flight in Aerobar.
An attraction that catches all eyes
The Aerobar is a standard visible to all for miles around. It is a great tool for communication and visibility, which will contribute to your attractiveness.
The aerobar adapts to your needs
It is now possible to personalize your balloon, by dressing its cover with the colors of your mark.
Technical characteristics :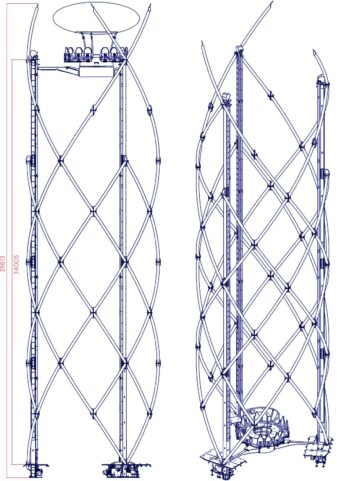 DIMENSIONS
Overall height: 40 meters (130 feet)
Diameter of the tower: 11 meters (36 feet)
Balloon diameter: 7 meters (23 feet)
Total weight: 44 tons
Performances
Ride capacity: 16 passengers
Ascension height with passengers: 35 meters (120 feet)
Speed: approximately 0.5 m / s
Maximum cycle per hour: 10
Drive system power: 3 x 9.2 kw
Wind: up to 70 km / h
Passengers: from 1.05 m height, 3'5" tall
ROTATIVE GONDOLA
16 passengers around the gondola
Information
Conforms to the European standard EN13814 and certified in China by the CSEI TÜV approved
100% designed and made in France
International patented